NOTE: this game has been discontinued. Find similar games here: Social Worlds.
About Bobba Bar
Bobba Bar is a great virtual bar scene for meeting people from all over the world.  Chat, date, flirt or just hang out!  This wonderful free download is all done using your iPhone!  Your iPhone acts as the bar where other iPhone users meet up and socialize.
Getting Started
First and foremost, you will create your avatar and personalize it to fit you. You will  also want to make your avatar as good-looking as possible.  You can change skin color, body shape, face, hairstyles and clothing.  There are millions of combinations to select from including the latest new fashions and accessories for a wonderful life-like appearance.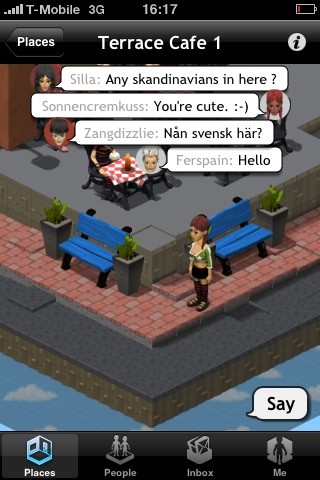 Once you have completed your avatar, you will be offered a large selection of bars to to go visit.  Each bar has its own theme, giving you the ability to find places that match your tastes and moods.  Once you have chosen the bar of choice, you will then start in on conversations with other Bobba Bar users.
This application is not only extremely simple to use, but is very entertaining and ever so easy to navigate through.
The Game
In order to interact with others in Bobba Bar's virtual world, simply tap, pan and pinch your iPhone screen.  It's that simple!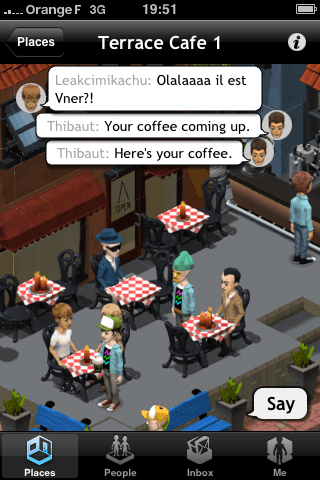 Bobba Bar is a great place for connecting with people who share your same tastes and interests.  By choosing different bar "themes", you can enjoy your many different interests along with others of the same mindset.  You might want to relax in a posh atmosphere like 5th Avenue or kick up your heels in the style of the Grand Ole Opry!
Dress your avatar to reflect a particular bar theme, from sexy and sultry to boot scootin and country. Enjoy a free drink with a new friend in a cozy corner or mingle with several friends at the bar.
Keep in mind, you must be at least 17 years of age as this application is a more mature scene.
One of the greatest features of this game is a world of total anonymity! You never have to share any personal information with anyone, if you choose not to.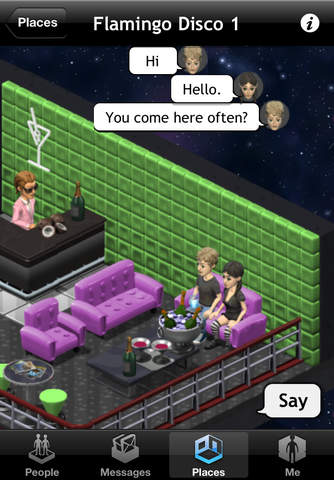 For more screenshots, click here.
You may also private message other members with the game's push notification system. Review other's profiles and see who has been viewing your profile as well.
For a fee, you may want a more advanced premium membership that will allow you profile searches that are more advanced along with many other awesome features!
Conclusion
If you really love virtual socializing applications that utilize your iPhone, Bobba Bar is the perfect match for you!  Come join in, meet other wonderful people from all over the world and just have a great time!
Bobba Bar is free to play.
NOTE: this game has been discontinued. Find similar games here: Social Worlds.