OVERVIEW
Item Reviewed
Immortal Night
November 20, 2018
PUBLISHER
Immortal Night LLC
MADE IN
Broomfield, CO, United States
Positives
The design of the game is simple.
Negatives
The website lacks basic info about the game.
If you are a fan of RPGs that rely on your imagination and you enjoy being part of an online community through a forum, then Immortal Night may be the right game for your Vampire versus Werewolf battle needs.
This text based game allows you to decide which creature of the night to become, and then fight for your right to rule the darkness. The city through which you lurk is separated in six areas, and through these you will navigate in order to conduct your affairs.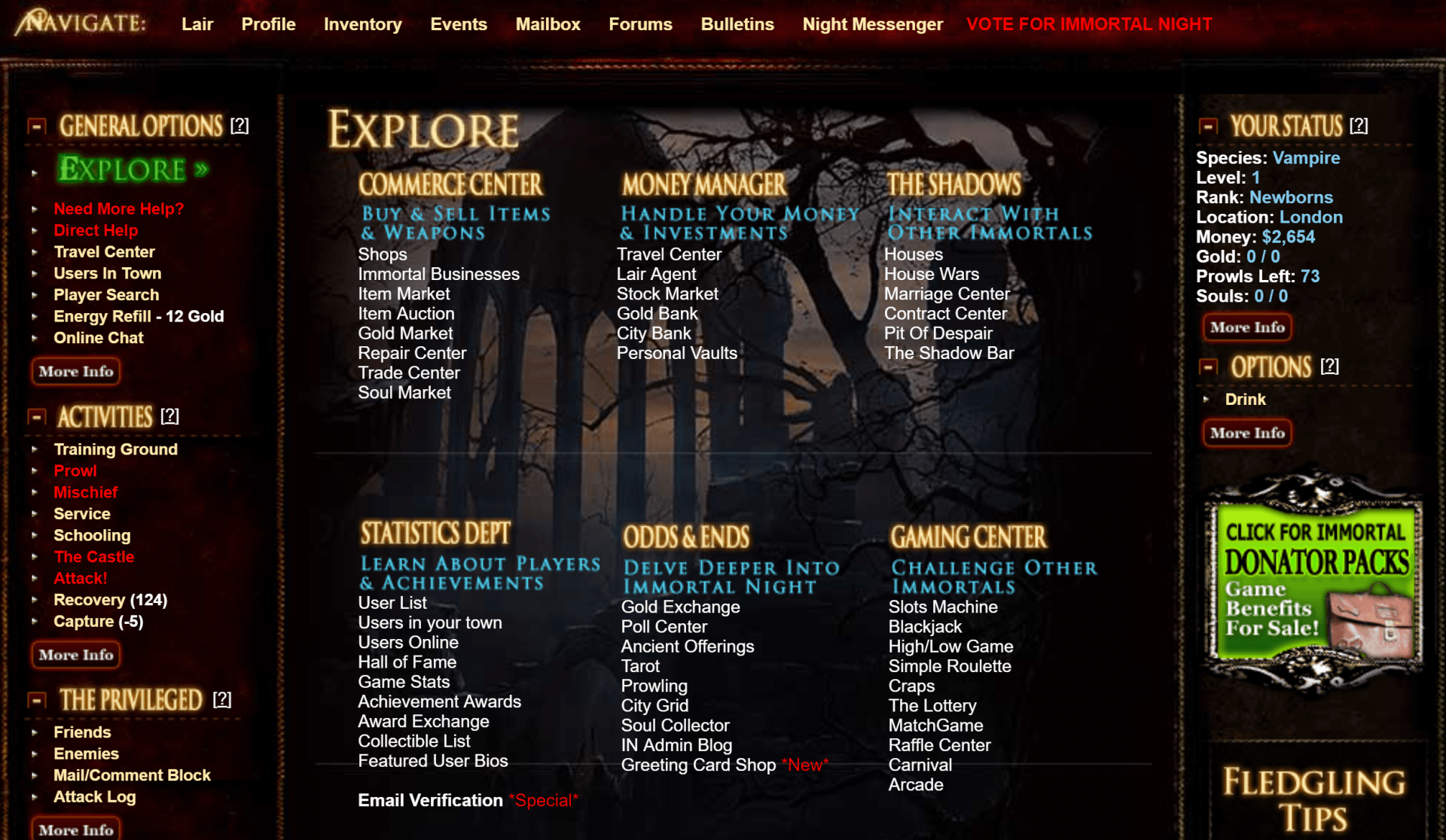 The Commerce Center contains a variety of shops, market places, trading areas, and repair centers.  The main shops never run out of inventory and you can buy almost any goods there. There are player run markets in which inventory varies and is limited.  Prices also fluctuate. There is a marketplace for souls, a place to trade items with other players, along with a center at which you may have your weapons and armor repaired.
The Money Manager allows you to travel, store your gold, set up a variety of bank accounts, accept assignments, stable your animals, and handle your stocks.
In the Shadows is the section that will reveal the information on the Houses in Immortal Night. The list of Packs and Covens and House Wars are included in this information.  You may propose marriage to another player, you can find human houses to convert, participate in Russian Roulette matches, take out contracts on other players, deal with souls, and be jailed when you commit player offenses.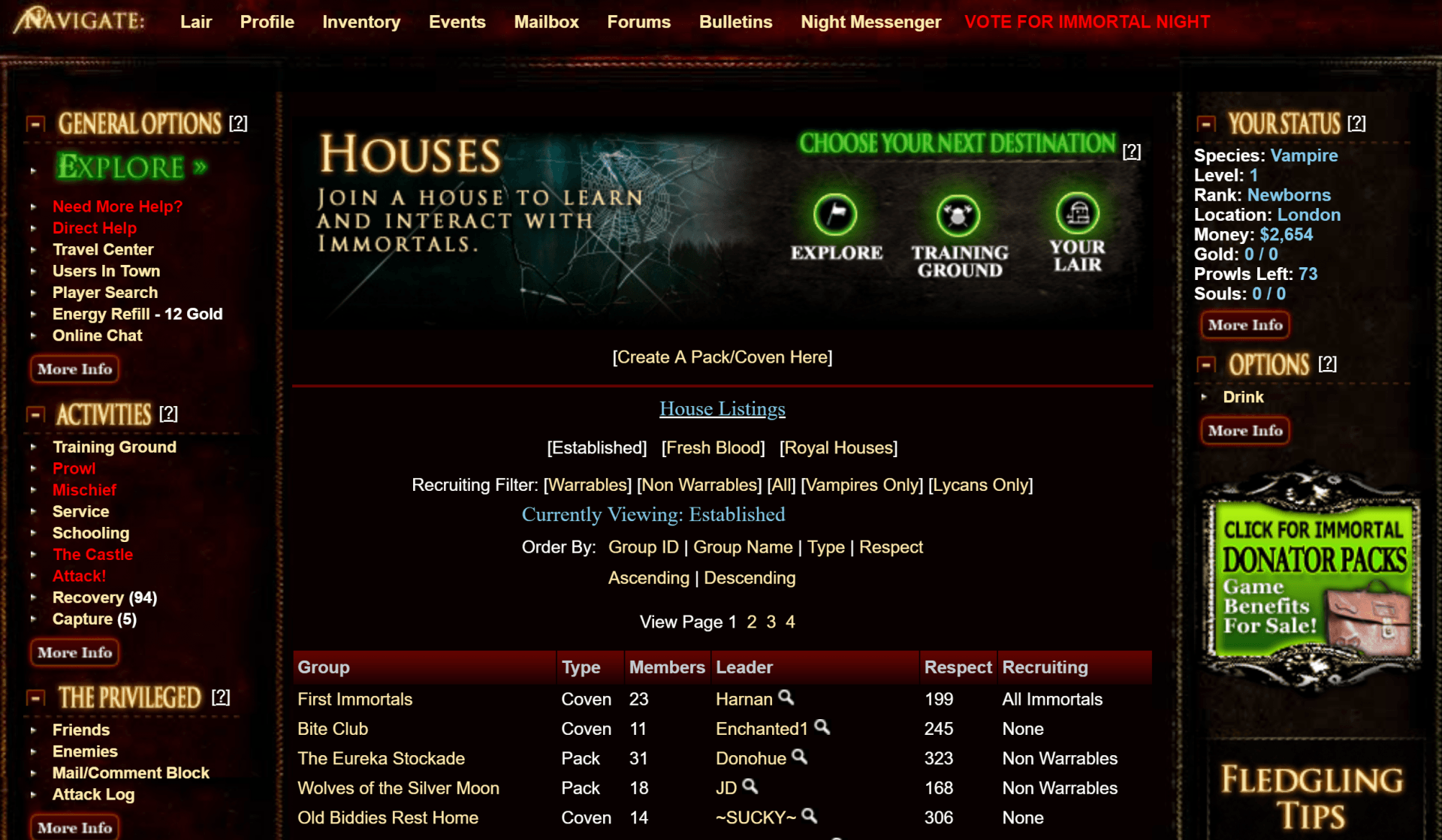 The Statistics Department has information on all of the stats of the game, which players are in the same town as you, awards, staff listing, and award exchanges.
The Odds and Ends will allow you to take polls, undergo training, fight NPCs, trade gold for items, mine, smelt, move up in the ranks, consult the tarot, and prowl for free items.
The Gaming Center allows you to play some casino style games in order to increase your immortal bank account.
So, you will be able to attack other players, move up in the ranks, and make a name for yourself among other immortals in Immortal Night.  Let your fingers do the typing and your imagination do the walking when you delve into the world of this RPG.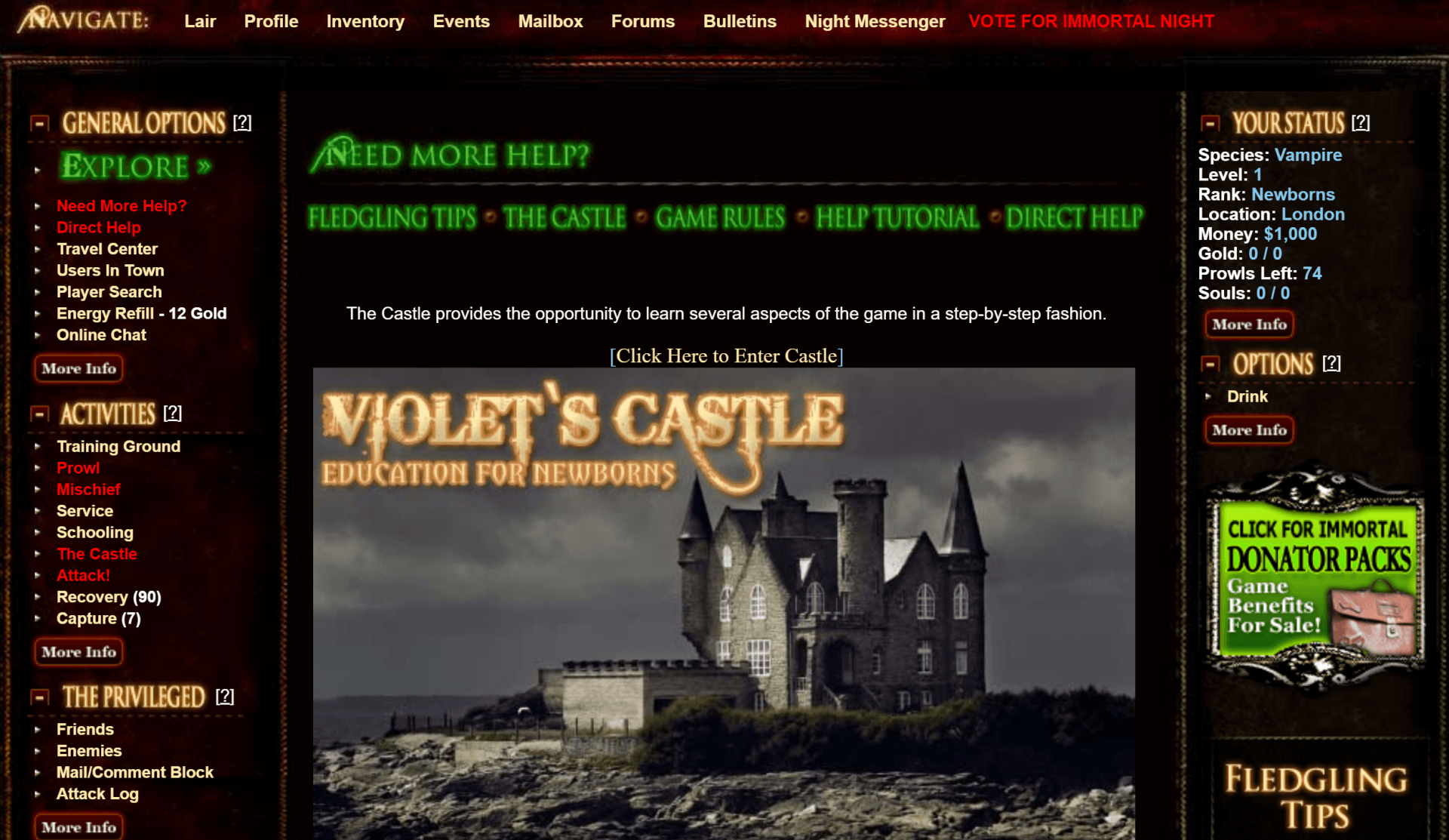 Here are more screenshots:
The higher that you level up, the more gear to which you will have access.  You can become powerful.  You can marry and have a partner with whom you may roam the night. You will be able to become part of an online community, make friends and have rivalries, all the while indulging in your desire to be a vampire or a werewolf.
Release yourself into the darkness and play Immortal Night.  Just make sure that you do not break the rules or the administrators will throw you into the Pit of Despair.  That could have you out of the game for a number of days, and how will you feed your need to be a part of the night?
Immortal Night is free to play.